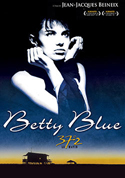 1986
Betty Blue – Trailer
A shocking and offbeat story of two French lovers, Zorg (Jean-Hugues Anglade) and Betty (Beatrice Dalle), who fall into a deeply erotic and all-encompassing relationship.
Zorg is a simple repairman in his mid-thirties who lives a relatively dull life in a remote, weathered shack until he meets Betty, a sexy, mercurial younger woman who challenges his way of thinking and forces him to change his life.
When Betty and Zorg are not having wild and uninhibited sex (and joyously traipsing around naked), Zorg is writing his novel, an unpublished masterwork that Betty discovers and vehemently champions. Betty, prone to violent fits of passionate rage, attacks Zorg's boss and burns their shack down, leaving Zorg no choice but to join her on a series of spirited adventures.
They move in with Betty's best friend and her boyfriend and for a brief time live a happy bohemian lifestyle, wild and crazy in love.
But as the film progresses, Betty's mental illness becomes more apparent, she lives in a fitful manic world of passionate highs and lows while Zorg desperately attempts to coddle and comfort her.
Finally, the lovers start over in a dreamy rural town, hoping to live a normal life, but Betty's fantasy world encroaches on her reality as she slowly spirals out of control in this intense story of love and lust, based on the novel by Philippe Djian.
Nominated for an Academy Award!