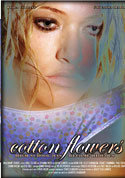 2004
Cotton Flowers
"Cotton Flowers" centers on the lives of four privileged teenagers. Though still safe and innocent a dysfunctional value system leaves them unprepared to defend themselves against predators and temptation.
Brit (Keila Collins), Sophie, Todd, and Andy, a very unlikely group, find themselves working together on an economics project their teacher Miss Rose assigns. Each student, believes they are in control and wiser than they really are. They face harsh consequences that their parents are oblivious to. Sophie deals with a slutty reputation and a virgin's frame of reference. Todd feels invincible and decides to mug a stranger with dyer results.
Andy faces a homosexual experience when the disrespect for his parents forces them to lock him out after curfew. And Brit finds that being a bitch that does drugs is a hard thing to hide when you are the most popular girl at school. This film clearly depicts the darker side of teenage life.