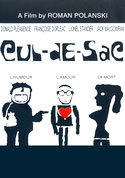 1966
Cul-de-sac
Described by Polanski himself as his best film, Cul-de-sac draws heavily on the traditions of the Theatre of the Absurd and echoes of Beckett's Waiting fo Godot in both it's themes and visual style.
George (Donald Pleasence) and Teresa's (Francoise Dorleac) marriage is based on a struggle for sexual dominance. Teresa attempts to win this game by assuming a male role in both her attire and attitudes. She emasculates her husband, physically and psychologically to the point of complete humiliation. George, for his part does try to fulfill the role of dominant male, but ultimately his efforts are merely destructive and leave him more isolate than ever.
Cul-de-sac is a bizarre and blackly comic study that revisits Knife in the Water's theme of what happens when a tense relationship fragile status quo is disruptive by outside influences.