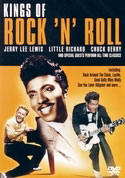 Oldies Goldies – Kings Of Rock N' Roll
This Legendary Concert was staged at Wembley Stadium on Aug. 5, 1972, the largest and most prestigious venue in the UK. Director Peter Clifton captured the best of the excitement on film. Performers included Little Richard, Chuck Berry, Jerry Lee Lewis, Bill Haley & the Comets.
This epic concert, as well known in classic rock circles as Woodstock is for folk fans, was filmed at London's famed Wembley Arena in August 1972. Unavailable on video for years, it became notorious by word of mouth.
Thankfully, this amazing collection of performances--which features such rock luminaries as Bo Diddley, Jerry Lee Lewis, Little Richard, Bill Haley, and Chuck Berry--has finally been made available for home viewing. Beautifully filmed by director Peter Clifton, the concert contains the inspired performances of more than two dozen rock classics.