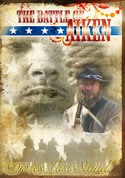 2005
The Battle of Aiken
The Battle of Aiken is an independent feature film written and directed by Christopher Forbes and produced by Brad Owens, both of Augusta, GA. Nearly two years in the making and with a cast of thousands, the film accurately portrays one of the last major events in The War Between the States. Called Dixie's last stand by some, The Battle of Aiken was the final Confederate victory in the war. The motion picture depicts the events leading up to the battle on February 11, 1865, as well as the battle itself.
This is a story of two cavalry generals: Hugh Kilpatrick (Brad Owens) on the Union side and Joseph Wheeler (Danny Francis) on the Confederate side. They had known each other since West Point, and did not like each other. The war only deepened their personal animosity. The story is also about a woman (Darlene Donofrio) who could lose everything at any moment. A plantation owner and widow, her life is torn apart by the approaching Union forces. Her home is raided and her teenage son (Matthew Caleb Yon) has joined the militia to fight for the Confederacy.
Most of The Battle of Aiken was shot on locations close to Augusta, GA. The battle footage was shot by placing multiple cameras at battle reenactments in South Carolina, including Aiken, Anderson, Columbia and Broxton's Bridge.