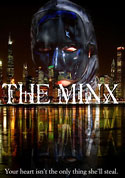 2007
The Minx
Linnea Chiang is a mild-mannered tobacconist by day and a masked master thief by night; like some modern day Robin Hood, the black vinyl-clad "Minx" robs large corporations and gives the money away to homeless people on the streets of Chicago.
Over the course of the film's dazzling plot turns, Linnea develops relationships with two very different men: Joseph Van Zwick, the ruthless CEO of the corrupt "World Energy" company, and Edgar Alvarez, an idealistic young reporter for "The Windy City Weekly," Chicago's leading alternative newspaper. In an ironic twist, Edgar is assigned to write a story on The Minx, never dreaming that Linnea, the woman he has become romantically involved with, could be her alter-ego.
As both of these men, as well as Chief Inspector Chiapetti of the Chicago police, begin to close in on The Minx's true identity, Linnea is forced to make a decision about her future that will affect the lives of everyone involved...