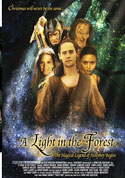 2003
A Light In The Forest
Britta, the new kid at Highland High, has reason to rejoice this Christmas: her sadness has summoned Holly Boy, the very spirit of the season, awakening him from the stony sleep imposed by the dark elf, King Otto.
This sets in motion an earthly as well as, an unearthly fight, which rages simultaneously: Young Britta must face her fears and perform a death-defying aerial act in the schools Christmas Pageant, while Holly Boy battles the forces of evil; both battles fought in order to save the school, and the Holly Woods.
In the end, it's not just a fight for a scholarship award or the woods by the school, it's a fight for Christmas and all the Good Will, and Glad Tidings that the season stands for.